As the Grand Union Canal joins the River Brent it gets more and more industrial, passing by weirs, roads, railways, offices and warehouses until we finally reach the Thames at Brent Creek. We'll then follow the Thames for a short distance to Chiswick Bridge where we end this journey for the day. There's also various art and info signs that we'll come across. See the website link below for more detail on some of those.
Check out the playlist and subscribe for future instalments as we carry on the walk along the Grand Union Canal proper down to the River Thames. Includes SDH (Subtitles for the Deaf or Hard-of-Hearing) captions.
Interactive Route Map: https://www.mapchannels.com/videomap/map.htm?folder=29726&map=29726-london-canal-loop---part-6
Extras: https://youtu.be/ic5UABh3JOs
Art
Thanks to my sister who works at GSK we have a little more information about the art on their site.
Athlete
This sculpture, which embodies the personification of health and strength, is made of painted steel and situation on the terrace at the rear of GSK House. The engineering effort required to maintain the arch of the sculpture can be said to correspond to the effort required by the human frame in executing a back arch. The image is reflected in the sheer glass walls of A Block on three sides.
Three Rope Figures

Three Rope Figures was created by Wendy Taylor OBE. The three bronzes are inspired by the riverbank and act as informal seating along the tree-lined waterway bordering the terrace. The rope for the sculptures was made in Chatham Historic Dockyard and then cast in bronze. Wendy was one of the first artists of her generation to 'take art our of the galleries and onto the streets.
Information Signs
Click for a larger version.
Grand Union Canal Wildlife (13:05)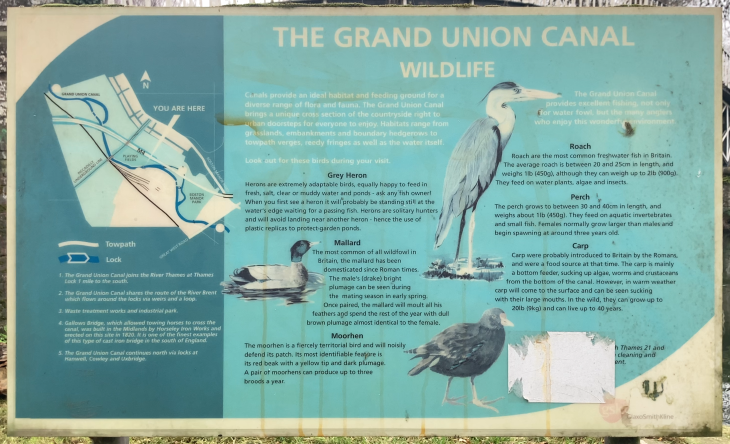 GSK Waterfall (18:56)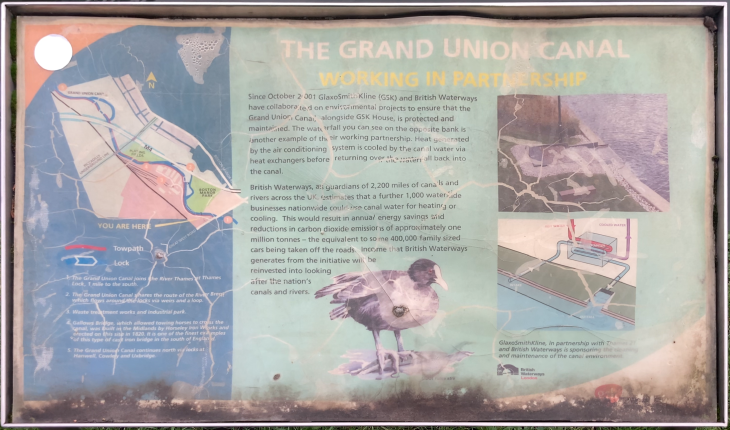 NOTE: "British Waterways" mentioned here became the Canal and River Trust (CRT) in 2012
Since October 2001 GlaxoSmithKline (GSK) and British Waterways have collaborated on environmental projects to ensure that the Grand Union Canal, alongside GSK House, is protected and maintained. The waterfall you can see on the opposite bank is another example of their working partnership. Heat generated by the air conditioning system is cooled by the canal water via heat exchangers before returning over the waterfall back into the canal.
British Waterways, as guardians of 2,200 miles of canals and rivers across the UK, estimates that a further 1,000 waterside businesses nationwide could use canal water for heating or cooling. This would result in annual energy savings and reductions in carbon dioxide emissions of approximately one million tonnes - the equivalent to some 400,000 family sized cars being taken off the roads. Income that British Waterways generates from the initiative will be reinvested into looking after the nation's canals and rivers.
Grand Union @ Brentford (21:23)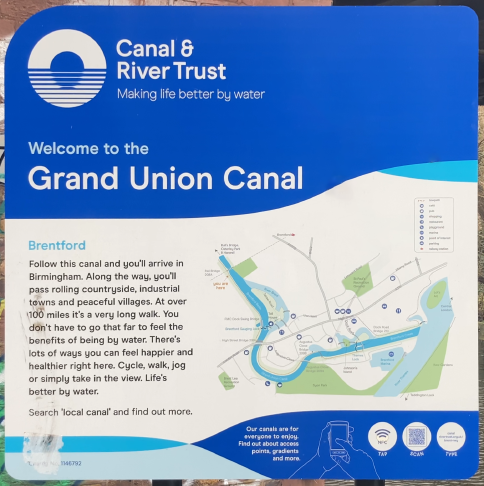 See https://canalrivertrust.org.uk/brent-rwy for more information.
Brentford Gauging Lock (25:35)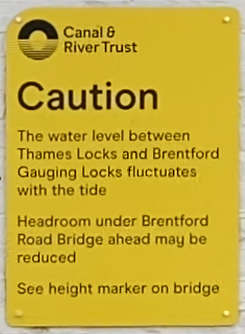 Thames Safety (38:59)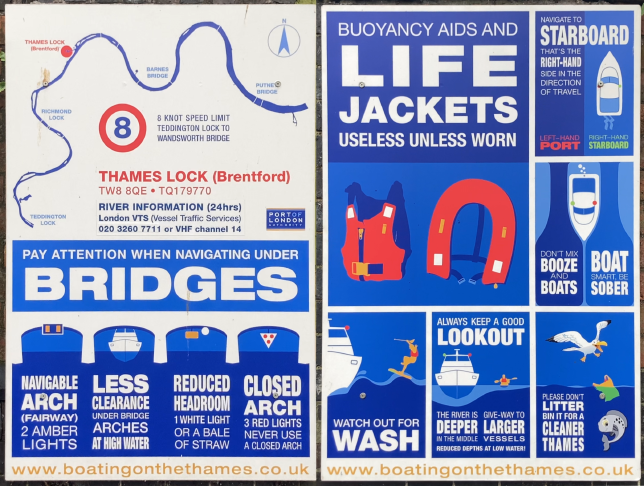 Useful Links
Credits
Mistakes
Let me know if you find any :)